---
Delivery of
BeeRaider 
Products
All prices for BeeRaider combo set Keyboard Products include worldwide delivery. Being partnered with DHL allows us to express-fulfill most orders within a week of order placement and you can even track your order-parcel while it's in transit using DHL's online parcel tracking service (Enter your order's AWB No. at www.DHL.com). Note that placement of your order on our website is fully secured to the highest industry certified standard (HTTPS). You can verify this by observing the "S" in HTTPS, which stands for "Secure", located in the address-window of your browser. It means that all information (e.g. credit card details) passing between the browser running on your device and our website is fully secure. You may also see a black or green locked-padlock icon, though apparently in some cases this is now being phased out and may no longer appear on all browsers.
Information
Our current keyboard products are available in two layouts, QWERTY and Optimized and are for use with laptop and desktop PCs running Windows operating systems: 7, 8.0/8.1, 10.0 and greater. Our products are now on discount offer (see prices below). These uniquely marked ergonomic wireless keyboards come with an amber-colored perimeter on the central space-key and have a second larger space-key located bottom-center for easy operation by the thumbs.
We need to emphasize that our current combo sets operate in wireless mode, which means your keyboard and mouse are no longer tethered to your computer/desk by short interface cables. This provides comfort in use and allows for keyboard and mouse sharing (if needed) with colleagues. It also allows for keyboard and mouse operation at up to a distance of eight meters. So if you want to, you can connect your laptop (via HDMI) to your large screen TV and operate it remotely from the comfort of your sofa, thereby allowing you to run your favorite program applications, PC based games or surf the Internet on your large-screen TV.  Note that our keyboard and mouse combo-sets are connected wirelessly to your computing device by the use of a USB nano-transceiver with all transmission signals between them being fully encrypted for security to industry standard.
Note: Owing to Customs restrictions we no longer deliver to Brazil or India.
Product 1 – Optimized 2.4 GHz Wireless Keyboard & Mouse
$149.99 normally $164.99  (The price includes worldwide DHL express delivery)

Note: USB nano-receiver, Mini Driver-CDROM and User Guide come with the above.
Product 2 – QWERTY 2.4 GHz Wireless Keyboard & Mouse
$XXX.XX normally $XXX.XX (The price includes worldwide DHL express delivery)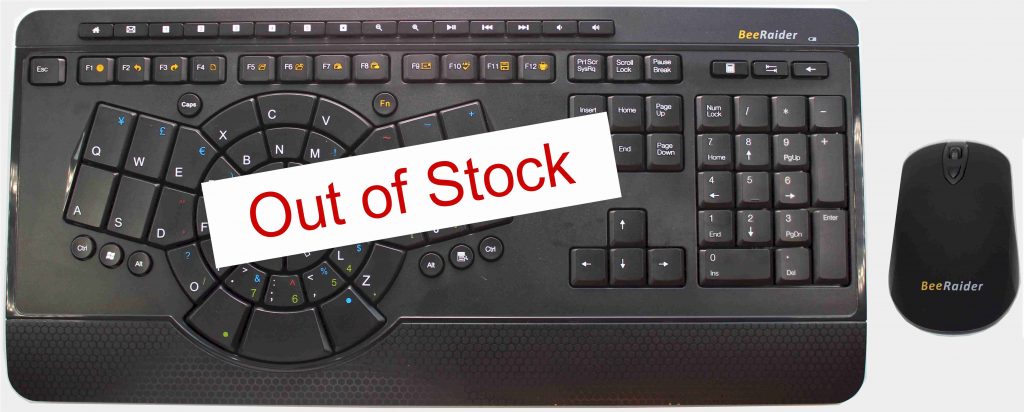 All our combo-sets come with full-color User Guide and keyboard-driver mini CDROM. The keyboard-driver allows for the programming of the keyboard's five programmable keys. Use this feature to assign and quickly launch your most frequently used programs and/or commands. You can also create your own customized macros to assign and launch at the touch of a button.
With the arrival of our first physical keyboards shown above, the three products incorporating BeeRaider's unique patented Radial Keyboard design now includes:
Combo set consisting of a desktop 2.4 GHz wireless PC keyboard and mouse with BeeRaider's unique Optimized layout
Combo set consisting of a desktop 2.4 GHz wireless PC keyboard and mouse with QWERTY layout together with a silicone overlay containing Optimised character-set layout for trial-testing. Note that the QWERTY keyboard's character-set layout is switch selectable (QWERTY or Optimized) using a slide-switch located at the back of the keyboard
App is for larger screen Android Smart-phones & Tablets (see next)
Product 3 – Android Keyboard App
$1.79 (Click the order-button below to download it from Google Play store)

App Showing Optimised Layout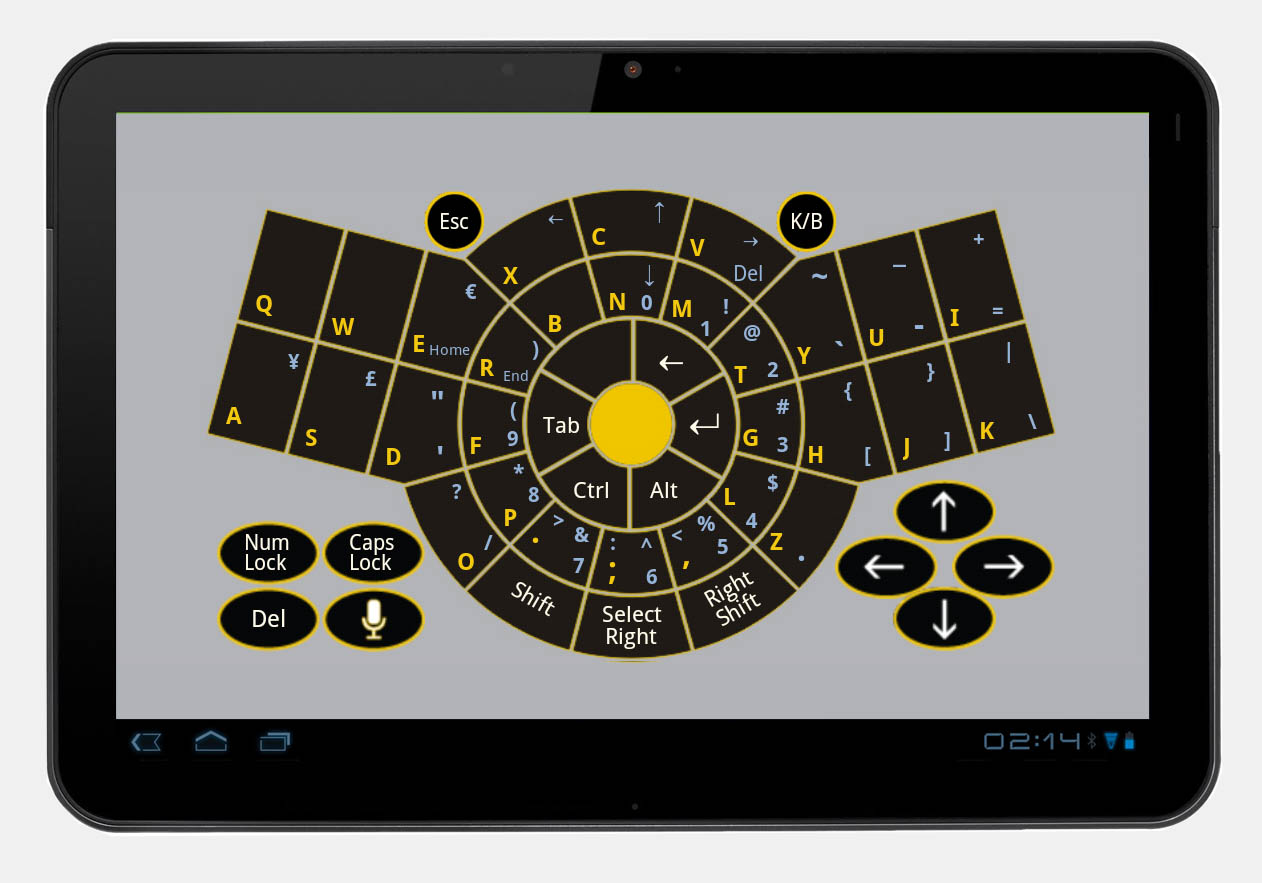 App Showing QWERTY Layout
Note:

App also includes: Spanish, French, German & Italian layouts.